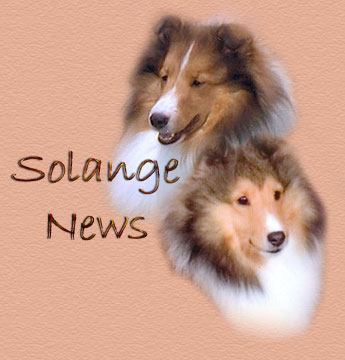 June 2009
A week after Peyton finishes, Flirt takes a 4-point Major under June Penta at Bushy Run KC, making her CH Solange Body Language. What a nice careet Flirt has had, with 2 National placements, a BOB over specials, and 3 Majors, one a specialty major! Peyton and Flirt are the 2nd and 3rd champions for their dam, Mindalyn Spring Fling.

Peyton is now CH Solange Spring Fling, finishing with a 2-pt WB under Thomas Feneis at Mountaineer KC.

Two days after Dolby took his 3rd major. His dam, Solange Body Language (Flirt) went to her first show since the National and took BOB over 3 specials for 2 points under judge Patricia Hess. She just could not let her son get ahead of her. Now they both have 11 points.

BISS Solange Surround Sound went to his first show since the National, one week after his first birthday. He took WD, BOW for another Specialty Major under Jane Howard at the Miami Valley SSC show, bringing him to 3 majors and 11 points. Since Dolby is blowing coat, he'll be staying home until he gets new clothes.
May 2009
April 2009
What a wonderful National we had!!
Dolby placed 1st in the 9-12 month Futurity class under Barbara Aulbach

Dolby took 3rd in his regular 9-12 class under Dorothy Christiansen.

Solange Significant "Signi" placed 4th in her 9-12 month regular class under Glenda Henson.

Solange Spring Fling "Peyton" placed 3rd in the Open Sable Bitch class Glenda Henson.

Solange Body Language "Flirt" placed 2nd in the Brood Bitch class (represented by Dolby and Signi) under Glenda Henson

Dolby and Signi would proud to represent their their sire, Ch Whiteoak's Dealer's Choice II, winner of the Stud Dog class.

Aidan placed 1st in the 9-12 year Veteran class under Dorothy Christiansen.

Aidan received an Award of Merit from judge Guy Jeavons
March 2009
Dolby wins a 3 point major at Fayetteville KC under Liz Bianchi.

Solange Spring Fling takes a second 5-point Specialty Major at SSC of Greater Baltimore under Joy Bass!

February 2009

In his first weekend in the 9-12 month puppy class, Dolby was RWD for a 5-point Major Reserve under Sue Christie at the morning show, followed by BOB over Specials at the afternoon specialty under Joe Molloy. Wow!
Dolby took a 4-point Reserve at the Greenville Kennel Cub under collie breeder Carol Chapman.

Dolby was Runner Up to Best In Sweepstakes at the Central Virginia Shetland Sheepdog Club under judge Rose George.

December 2008

Peyton won WB at back-to-back shows at the Gloucester KC and South Jersey KC shows under collie breeder-judges Linda Reidel and Ann Cross.

Signi was Best Puppy in Match at the Fall Harvest Sheltie-Collie Match under Bonnie Begle of Bo-Dandy Shelties.

February 2008
Solange Body Language went back out to the shows and took a Specialty Major at the Spartanburg SSC show under judge Lloyd Graser. She now has 9 points with both Majors just one day after she turned 18 months

July 2008

April 2007: Solange Body Language "Flirt" places 2nd in her large, quality-packed 6-9 mo Futurity class (entry after absentees=32) at the ASSA National. Thank you, Suzi Beachum, for this honor!

March 25, 2007: We have 5 babies (4 girls and 1 boy) by Ch Solange Aidan' Abet out of Mindalyn Spring Fever.

2006

January 7, 2006: Solange Maraschino ("Cherry") is WB and BOS for a 4 point Specialty Major at the Jacksonville Shetland Sheepdog Club show. Thank you, judge Wendy Mount!!


(c) 2004 Solange Shelties All Rights Reserved.
Background and Web Design by Spot The Dog Graphics